Our vision at FinDock is to enable nonprofits and commercial enterprises to create unique payment journeys for their customers. Personalized experiences are what we have all come to expect in a digital age. Being where your customers and donors are and offering the payment methods they prefer are essential ingredients for success.
Making that happen requires two key capabilities: integrating payment data with customer relationship data and adopting new FinTech (while maintaining the old). This is what makes FinDock special as a Customer Payment Management solution. FinDock is designed for adaptability, integrating anything from banking systems to the latest online payment service, all the while ensuring payment data, from requests to reconciliation, is stored at the heart of the customer profile in your CRM.
In the Netherlands, we have seen a truly meteoric rise of one online payment service in particular, Tikkie. Since its launch in 2016, Tikkie has skyrocketed to over 6 million users. A "Tikkie" is a payment request in the form of a unique URL or QR code that can be easily generated and shared. Tikkies are used for just about anything, such as splitting a restaurant tab among friends, giving to a charity, or paying for a subscription.
Until now, Salesforce customers who also use Tikkie could not make or get Tikkie payments in Salesforce, so we fixed that! In an arrangement with ABN AMRO Tikkie, FinDock has launched a Tikkie for FinDock integration available to all Salesforce customers.
This new offering opens up a world of possibilities. You can generate as many Tikkie URLs and QR codes as you need and use them just about anywhere. If you are a nonprofit rolling out a fundraising campaign, you can print Tikkie QRs right on the campaign flyer or use the Tikkie URL in direct emails. The Tikkie payment request can be for a specific amount and include a personal reference per donor, or you can leave it open and let your donors decide how much to give.
In addition to creating the Tikkies, FinDock handles all the data within Salesforce as well as data from Tikkie. This means you can easily match payments and, for example, quickly get reports on the campaign success rate.
Another way to use Tikkies is as an alternative payment method. Perhaps you have a lot of direct debit customers, many of whom have unpaid or overdue installments. You could craft a friendly email and include a Tikkie with it so your customers can pay from a different account.
In addition to bulk Tikkie operations, we have also created Quick Tikkie, a Salesforce component that can be added to any object in Salesforce.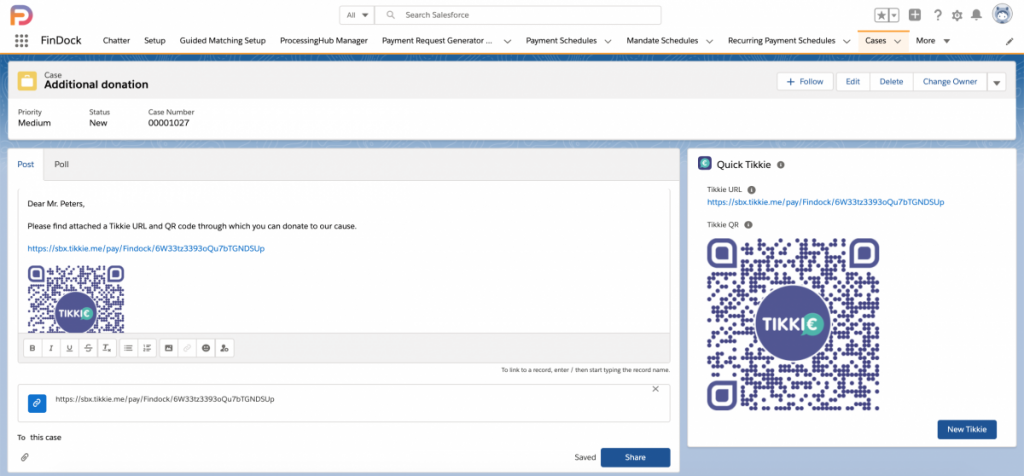 With Quick Tikkie, agents can instantly generate a Tikkie URL and QR for the record they are working on and send either to the customer, either through Salesforce channels email or Chatter, or copy-paste the Tikkie to some other channel outside Salesforce. Either way, FinDock automatically takes care of creating an installment and updating Salesforce data when the payment comes in.
Needless to say, we are extremely excited with this development and the cooperation we have with ABN AMRO Tikkie. It is going to be great for them, and at the same time this cooperation gives our customers some really exciting new opportunities for creating meaningful, and successful, personalized payment experiences.