Virtual Terminal (MOTO)
Accept, process, and record card not present MOTO (Mail Order Telephone Order) payments directly in Salesforce. Whether the customer is on the phone, or you have an offline card payment to process, being able to collect that payment directly from within your CRM via FinDock's virtual terminal helps improve efficiencies and improves the process, all while being fully PCI compliant.
Optimise call centre and operations processes
Streamline phone and paper payments and improve efficiencies within your call centres and operations departments.
Manage the entire payment process in Salesforce
Manage the entire payment process entirely within Salesforce, simplifying workflows and enhancing visibility and control.
Collect cardholder-not-present payments in Salesforce
Provide a seamless and secure payment experience for your customers and donors by collecting cardholder-not-present payments directly in Salesforce.
Get a 360 view of your payments
Gain valuable insights into customer behavior, trends, and performance, and make data-driven decisions.
Start taking card payments within Salesforce with FinDock
By including FinDock's Virtual Terminal in business processes, organizations can easily process card payments over the phone, from offline forms, or from "cards on file" in a secure Salesforce environment, connected to your Payment Service Provider of choice while allocating funds to the right campaign or channel.
By bringing offline and online payments together in Salesforce, our native MOTO component enables you to enrich reports and dashboards, trigger journeys or flows, and access a comprehensive view of all their payments. And like all FinDock features, it's native and easily included in any Salesforce screen or business flow.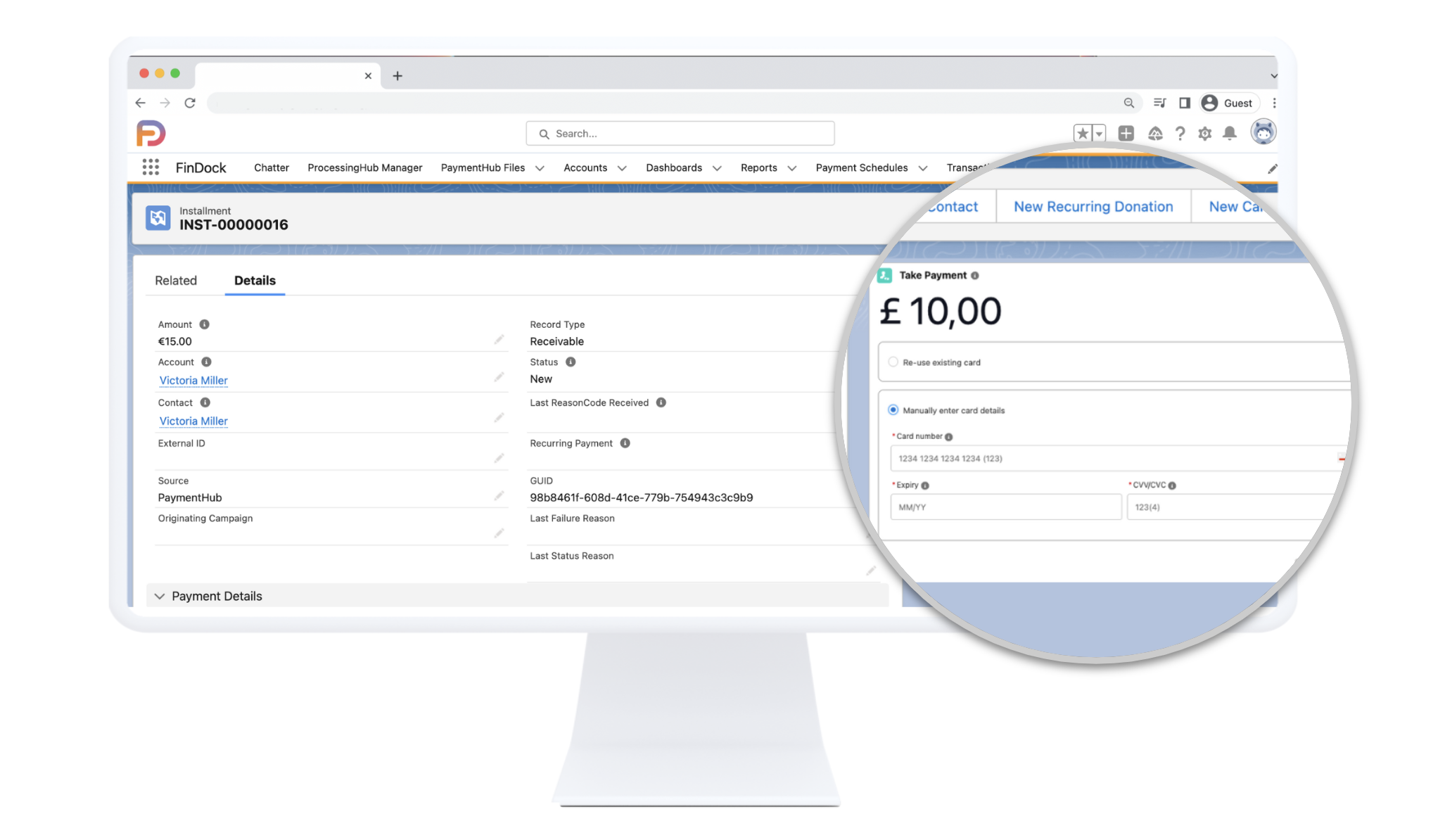 Want to learn more?
Get in touch with us and see how you can do MOTO payments with FinDock.