FinDock is a 100% native application that extends Salesforce with powerful Payment Management capabilities
Salesforce becomes a Payments Management Platform

Payments processing is integrated with your CRM
Connect to payment service providers and banks directly in Salesforce. You have full control over payment operations and workflows in CRM.
Payment data is accessible in real-time in CRM
View payment data within your customer profiles, and in reports and dashboards across your entire Salesforce environment.

Customer payment data is actionable across CRM
Leverage the full power of the Salesforce Customer 360 platform to launch more intelligent customer journeys and engagements.
Salesforce reports and dashboards are enriched with payment data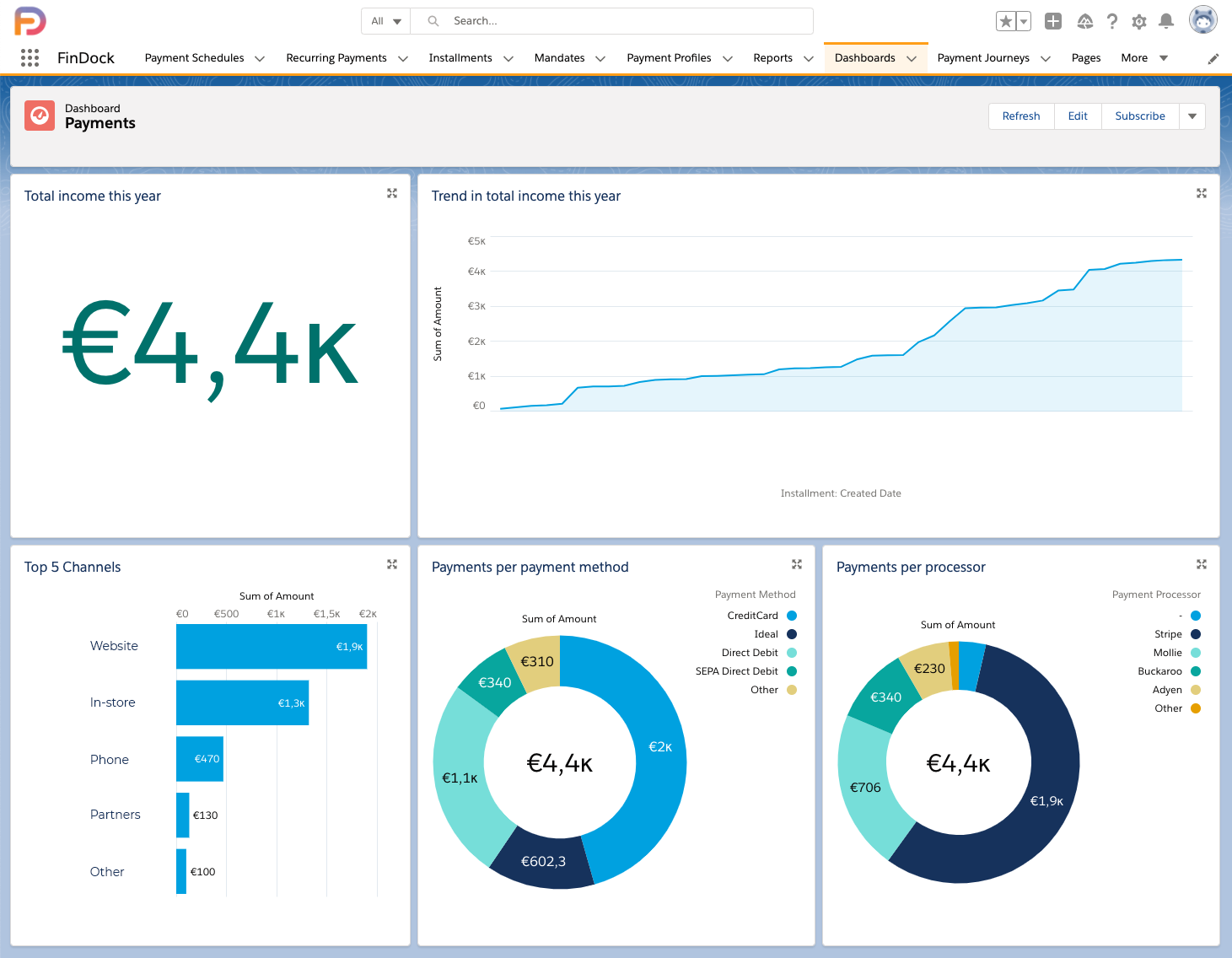 FinDock is 100% Salesforce native, which means you enjoy…

Salesforce data security
All data processed by FinDock sits in Salesforce. This automatically provides you with the same security standards as used by Salesforce.

Seamless integration
FinDock is built on top of Salesforce. This means it feels just like working within your regular Salesforce environment but with added features and functionalities. 

Increased reliability
FinDock benefits from having the same tech infrastructure as Salesforce. This means FinDock is up and running when Salesforce is. 

Customizable
With FinDock, you have the flexibility to customize your set-up to match your requirements. If you want to add new workflow rules, it's as easy as using the basic Salesforce configuration.

Enhanced data quality
Data is accessible in real-time across Salesforce. This means your reports and dashboards always accurately represent payment statuses across your org.

Extendable to all Salesforce solutions
Because FinDock sits within the Salesforce architecture, it is extendable to all Salesforce solutions, clouds and customizations.
Ready to get started?
Speak with the FinDock team about extending the Salesforce platform for Payments Management.
Get in touch