With the rapid digitization of today's society – further spurred on by the Covid-19 pandemic – online fundraising is becoming even more important. In addition to giving you a digital presence, with online fundraising, done with the right tools, you can capture the donor journey in your CRM. This, in turn, enables you to craft personalized follow-ups to improve conversion rate and increase loyalty.
While online fundraising has clear advantages over traditional channels like hosted events or direct mailing, your implementation can be easy or quite difficult. Salesforce CRM provides the foundation of your 360 donor view. There are also many tools (and services) around creating donation web pages. All have their pros and cons, but they tend to share a common challenge: integration.
Creating a web page is the easy part of online fundraising. Integrating that front-end presence to your Salesforce CRM and payment service provider(s) is where things get complicated. That's why we created FinDock Giving Pages. We wanted to remove the hurdles nonprofits large and small face with online fundraising. Our goal with Giving Pages is simple: anyone should be able to build and launch an fully-functional online donation page in minutes.
Before we get into the details of how to use FinDock Giving Pages, let's first have a look at the key elements of successful online fundraising.
Design the right look & feel
Your cause and your brand play a key role in online fundraising. You need a visually appealing web page that reflects your identity and attracts the attention of visitors. Once you have their attention, you need content that activates visitors and turns them into donors.
First impressions are important. Essential to creating a positive online experience are performance and security. A slow-loading page can push visitors away almost immediately. Modern browsers are also good at telling visitors if your website certifications are not in order. In other words, hosting your online fundraising is as important as the webpage itself.
FinDock Giving Pages include a Page Builder where you can create a fundraising page fit for purpose. There are several out-of-the-box templates, and you can adjust the look & feel – images, colors, fonts and layout – to create the right appeal for your cause. The Page Builder gives you flexibility while ensuring that the end result loads and renders properly in any modern browser. In addition, hosting is included and fully managed by FinDock on a givingpage.org subdomain that you can choose yourself.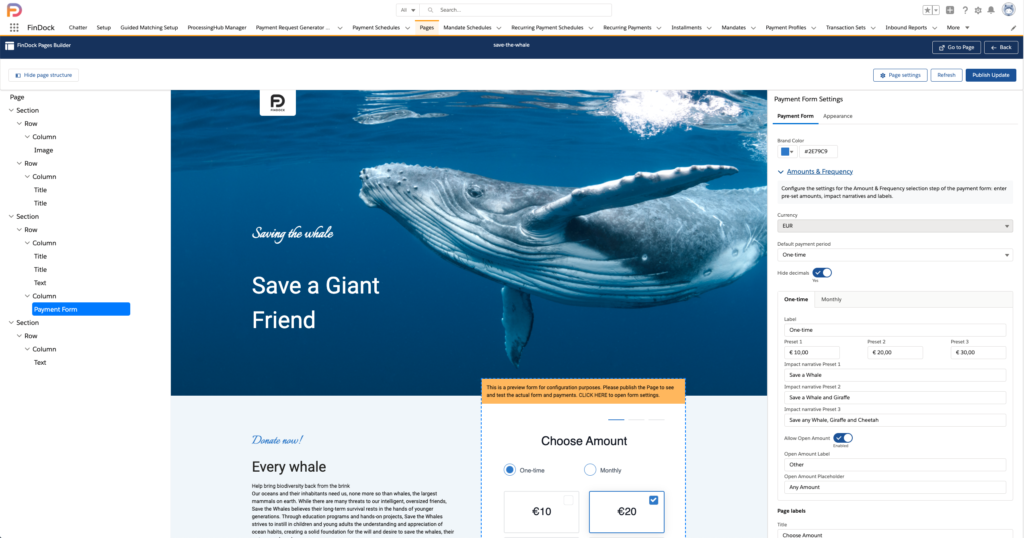 Create an easy path to giving
A good looking donation page is just the start. Once a visitor has decided to donate, you need a payment journey that is smooth and flexible, guiding visitors through the required steps to make a donation.
This is where online fundraising gets considerably more difficult. You need to collect required data for processing payments, capture information about the donor for follow up engagements, and of course provide a secure integration with your payment gateway or service provider. Above all, you need to offer potential donors payment options. Visitors expect choice, and if you can offer them the payment methods they prefer, the better conversion rates you will get.
For these very reasons, we put a lot of effort into our Payment Form. The embedded donation form of FinDock Giving Pages is automatically integrated with your payment processing configuration right out of the box. Each page you create has its own fully configurable donation form. You can, for example, define preset amounts, create impact narratives for each preset amount, define the payment method options and ordering, and much more. Create as many pages as you like and tailor each one, including the donation form itself, to fit your target audience and market.
Bring payments into your customer 360
With a nice looking page and a smooth donation experience, you almost have everything in place for successful online fundraising. The final crucial ingredient is bringing all that information from the donation page into Salesforce where it turns into actionable data that you can use to build customer-centric, personalized follow up journeys with donors.
Because FinDock is built 100% native on Salesforce, you are done before you even know it. All donor information you collect is automatically matched against your existing CRM data or added as new information if no match is found. Our mature, stable and well-proven data model is seamlessly integrated with Salesforce CRM so that payment-related data is available to enrich the 360 view of your donors.
What's the next step?
Well, it's pretty simple. Giving Pages comes with your basic FinDock subscription. There are no costs, period! Make as many pages you need and use the full range of payment methods and processors you have available. You can even use Giving Pages alongside custom-built donation pages, partner integrations or peer-to-peer platforms.
All you need to do is in your FinDock setup is:
Add a subdomain, e.g.

mycharity

.givingpage.org

Choose a template, fill in your content and adjust appearance.

Select the donor details to collect and the payment methods and processors to offer.

Save and publish.
That's it! You are live and fundraising online! If you later want to change something, just go to the page setup, make your modifications, save and off they go.
Now that you have online fundraising integrated with your CRM, you can start to build loyalty and increase donor engagement. Here are just a few ideas.
Follow-up on failed or abandoned payments
No matter how good your page is, the final payment step is full of variables beyond your control. Donors can abandon payment just because they don't have their credit card details ready. Payment processors and banks can block the payment for any number of reasons. You can see all this from the personal and payment data FinDock collects and stores in Salesforce.
If a payment fails, you can find out from the Installment record in Salesforce. With the payment details in hand, you can reach out, manually or with Salesforce automation tools, to contacts who nearly became donors and ask if they would like to donate later, through a different payment method, and so forth.
Personalized thank you messages
With a basic Salesforce CRM, you can already create personalized thank you messages to donors based on the details you collect through Giving Pages. If you have Salesforce Marketing Cloud or Pardot, you have even more options for formulating thank-you's and start targeted donor journeys.
Focus investments in payment methods or processors
One of the key benefits of FinDock is the payment data you collect right at the core of your CRM. FinDock is the key ingredient that adds payment data "spice" to your analysis capabilities. Every payment through Giving Pages brings new, real-time insights. For instance, you can use these insights to determine what payment methods are most popular amongst which donor group. These insights can be used to increase the success of your future campaigns. You can build reports to follow which of your processors generate the most income.
Optimize and target your efforts
Because there are no limits on how many pages you have, you can set up a separate donation page for each of your campaigns, each region, and so forth. This makes for easy reconciliation and simplifies performance tracking.