Working in Customer Success at FinDock is a great opportunity to bring customers on a journey, helping them succeed in maximizing the value the product can have on their organizations.

We get great feedback from customers on our Customer Success team and so we wanted to speak to some of the team to see – "what do you really do?".
Meet Chris, Customer Success Manager at FinDock 
After working in UK nonprofit organizations for more than 8 years, Chris gained deep insight into how the industry operates and how he can make a difference. He joined FinDock in October 2021, bringing all that knowledge with him and applying it to his role here.
"The customer trusts you, they want and need your experience to help them." — Chris, 2022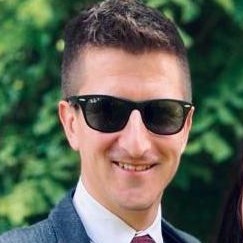 1. What does it mean to be a Customer Success Manager?
Being a Customer Success Manager is all about listening to the customers and helping them understand the product with all its opportunities and limitations.
It's about doing everything we can for the customer within the existing boundaries. If the product doesn't deliver in some areas, we need to be transparent and clearly communicate that to the customer, while also looking for ways to fill the gap.
2. What motivates you in your role?
I really enjoy building relationships and solving customer problems, and I get to do that every day at FinDock. These are real challenges for charities and I get a lot of satisfaction out of helping them solve them and also helping to develop a great product. 
Also, the goal alignment and team support motivate me a lot. Everyone at FinDock is working towards the same vision.  My role isn't just about providing solutions, but making sure the customer knows and thrives with the product – I couldn't do it if the others weren't focused on the same goal. 
3. What does teamwork look like to you and how do you bring that to life at FinDock?
For me, teamwork doesn't just mean the Customer Success team – it means all of FinDock. I genuinely know that no matter what happens, there's always someone I can discuss and share ideas with. I get to learn all the time and the process is 100% organic which I appreciate.
4. What are the biggest challenges in your role and how do you overcome them?
Managing relationships with customers and partners is one of the biggest challenges in my role. My job is to make sure that everyone's visions are aligned and we can successfully implement FinDock. While this is the case most times, there are also situations where the customer or partner suggests an idea that's not sensible for the product and I need to step in. When that happens, I need to be honest and upfront with both parties, but I also need to choose my words carefully. A big part of my job is building relationships with all parties, and knowing how to leverage these relationships is essential. 
Another challenge is getting customers live, and it's all about communication. I need to understand which parts of the product the client will be using in order to support them as they implement FinDock, but without holding anyone's hands. Most times, the only thing I can do is offer the information and documentation they need. It's very important to learn from this process to further improve our onboarding journey and to make sure that people understand and successfully implement FinDock.
5. What's the coolest thing you're working on right now?
The coolest thing at FinDock right now is the customer Trailblazer community which we launched in March. It's still small, but I'm looking forward to growing it throughout the year. It's about charities coming together to share best practices and advice. It's simple but very effective and I'm glad to be a part of it. 
Interested in working with Chris and the Customer Success team at FinDock? See job openings!