Automating processes is a great way to
increase efficiency
across your organization. For fundraising teams, it can mean fewer resources spent on manual tasks, freeing up much-needed time to focus on strategy, creative content and collaboration.
In this blog, we'll walk you through a number of automations which can help you to maximize your resources, better engage donors, and optimize processes across your nonprofit.
We've divided these tips into two parts – automation related to donor engagement and automation related to back-office tasks, like payments management.
Streamline donor engagement practices 
1. Automate the way you thank donors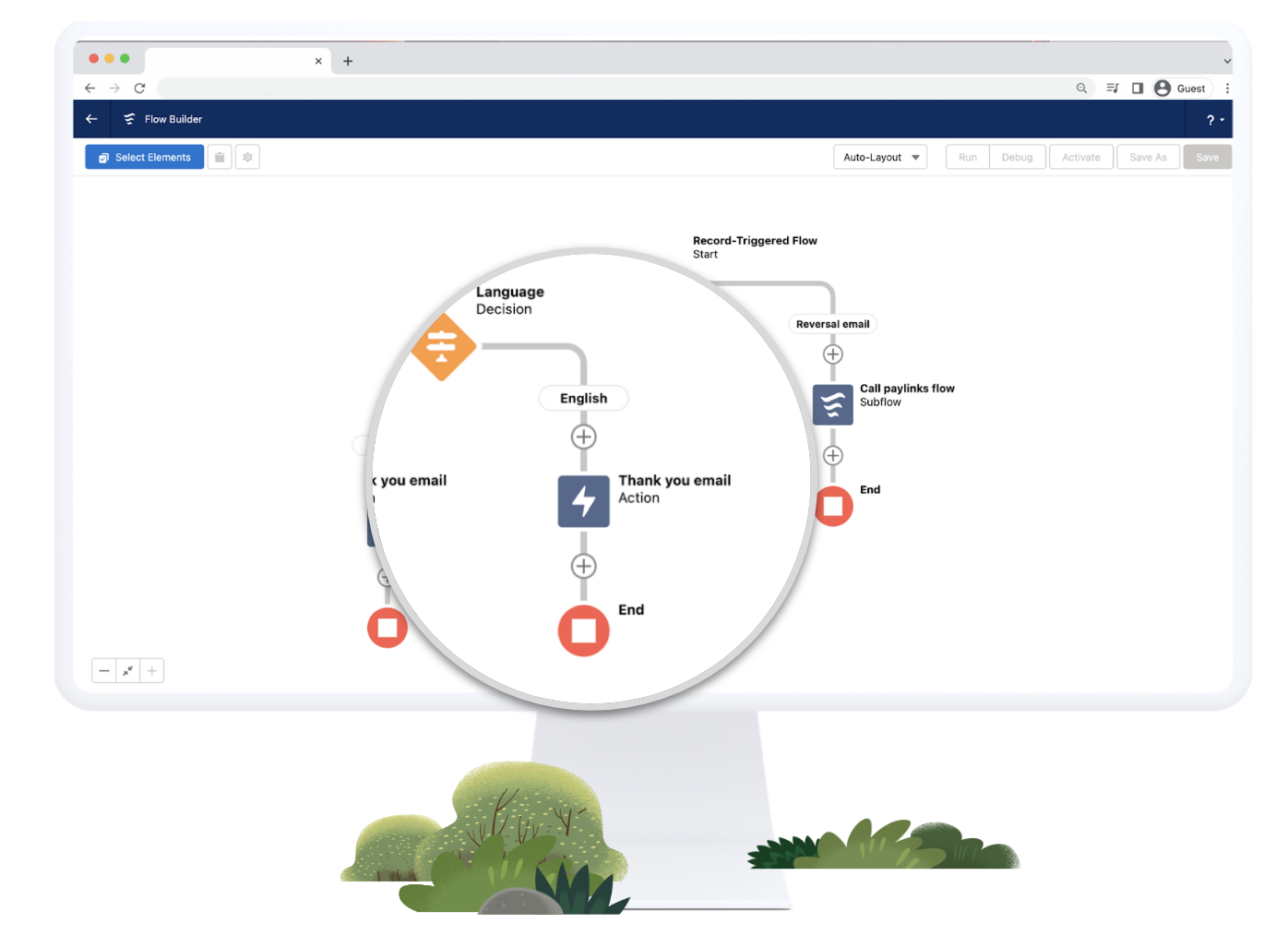 When transactional/payment data is accessible and actionable in your CRM, as with
Salesforce and FinDock
, it makes it possible to set up process flows and automations which are triggered by events, such as when a donation is made. 
This means you can automate donor thank you messages and also automate notifications to let team members know when a donor has made a donation which warrants a phone call to say thank you.
"We have a goal to thank 80% of our donors in 5 days, and we're on track to achieving it. It's something that's very important to our Supporter Care team, and would not have been possible before the move to the Nonprofit Success Pack (NPSP) and FinDock."
– Robin Peake, Director for Supporters at Wycliffe Bible Translators
2. Automate donor journeys based on preferences
Carefully planned donor journeys help build trust and connection with donors. And when these journeys are dynamic (they change based on donor variables) it makes them much more
authentic and impactful
.
In order to design personalized engagements, you first need to understand your audience. Salesforce makes this easy to do by centralizing data from a number of different sources, and with FinDock added, you'll have access to donor transactional data too.
"With Salesforce and FinDock, our data is centralized and accessible, which helps us develop better insights and reach younger audiences."
– Kristian Scott, Web Manager & Implementation Lead for Salesforce and FinDock at Barnabas Fund 
Journeys can be used for multiple purposes – to nurture a prospective donor, to convert a one-time donor to become a regular donor, or indeed to try and increase engagement in other areas, like volunteering etc. all to deepen the connection with the organization. 
Financial processing made easy
3. Automate reconciliation of bank and CRM data
"With FinDock, we have more control and flexibility. We can change the Guided Matching rules as we need to. This helps us increase efficiencies." 
– Alexander Kindinger, Head of IT at Christian Blind Mission.
FinDock's Guided Matching tool helps organizations maximize efficiencies when it comes to reconciliation. Some FinDock automation examples include: matching transactions to existing installments, creating new installments, sorting contacts and campaigns by keywords, and more.
4. Automatically recover missed, failed, and lost payments
Many nonprofits struggle to identify missed, failed, or lost payments. This can present a challenge but also an opportunity; what if you could recover some or many of those missed payments,
and
identify where issues arise?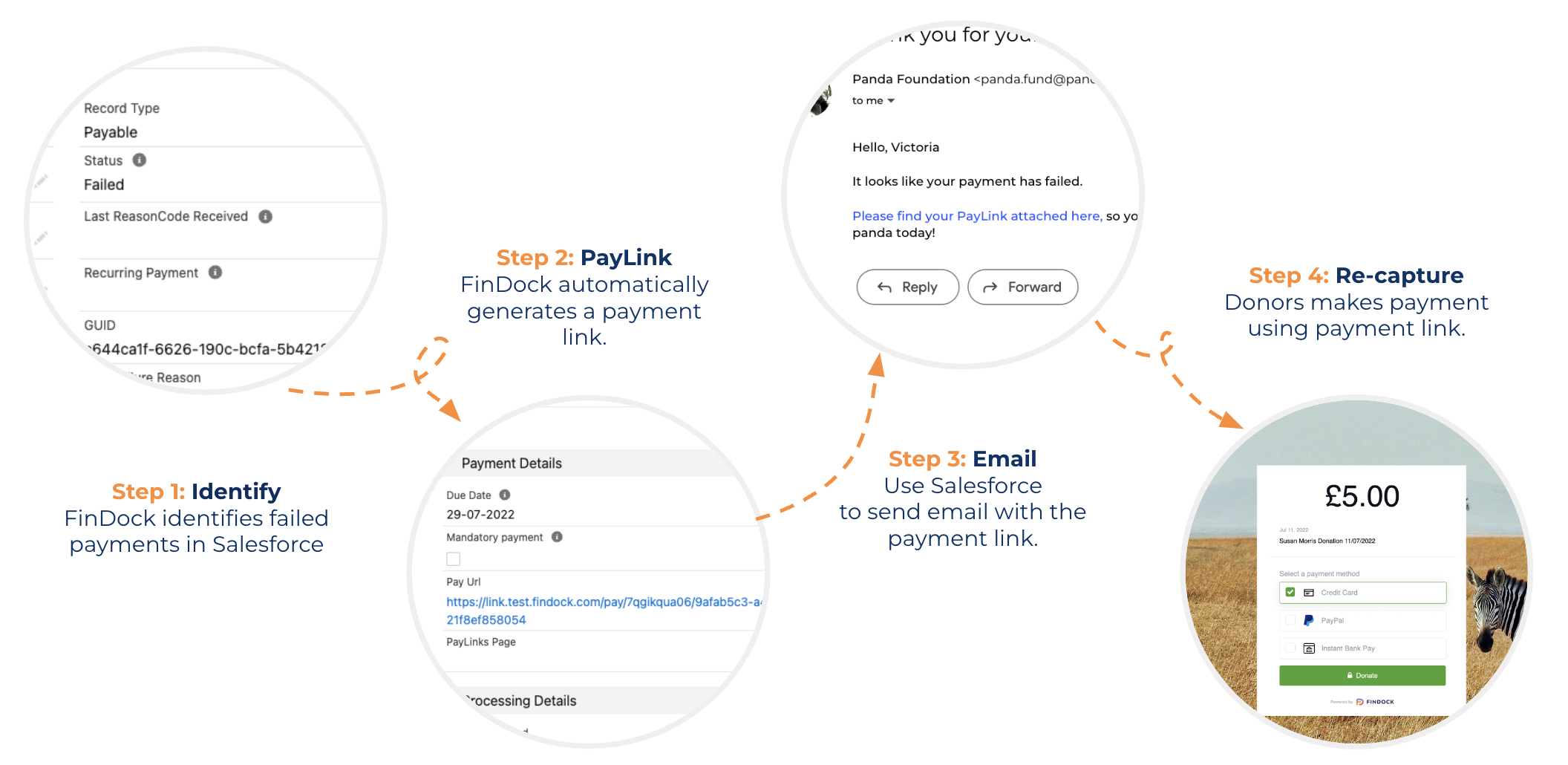 FinDock helps nonprofits to do this by recognizing the incoming transactions and identifying the ones that didn't go through and the related contact. When this information is in Salesforce, it's easy to automate processes to follow up on failed donations, just like
Save the Children has done with FinDock
. 
"Sometimes a donor doesn't fill in the form properly, or the payment fails. We instantly know this because of FinDock, and we can trigger a journey using Salesforce to help the donor complete the transaction."
–  Jeroen Beelen, Data and Marketing Automation Manager at Save the Children Netherlands.
5. Automate direct debit runs
Direct debit is now one of the most common ways to give, but it also requires lots of preparation and time in order to maximize collection. In many cases, automating all or at least certain parts of the direct debit process will give your team back much-needed time to work on other aspects of fundraising.
FinDock enables users to set up and automate direct debit processes inside of Salesforce, such as direct debit runs and also follow-ups on unsuccessful payments (via Salesforce tools). Recapturing failed direct debits is a great way to maximize your collection potential. A great example of an organization doing this is Save the Children Netherlands, which has reduced failed direct debits by 60% since starting with Salesforce and FinDock. 
"If something happens with a Direct Debit, we can start a journey with a donor – informing them that the Direct Debit has failed and requesting that we get in touch. Oftentimes, a mistake can be easily rectified. All these instances make an impact on our fundraising income so having this control is really important for our team." 
–  Jeroen Beelen, Data and Marketing Automation Manager at Save the Children Netherlands.
Automation is becoming increasingly important in fundraising, helping nonprofits scale their programs without using up resources. 
At FinDock, we've built our payments platform on top of Salesforce so that data flow is seamless, essentially, we turn payment (or donation) data into CRM data so that it just all looks the same, meaning you can leverage the full power of Salesforce to drive efficiencies, raise more funds and realize your mission goals. 
Take a look at some of the impact metrics FinDock nonprofits report.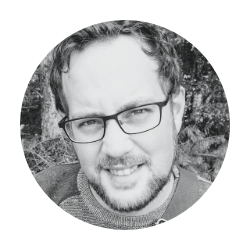 Peter van der Meij
Senior Solution Specialist and Principal Trainer
Peter has years of experience in both nonprofits and Salesforce with over 100 projects related to payments under his belt.