The best and most effective way to request and collect payments from customers or donors is on their preferred channels and at a time that's convenient to them. 
But many organizations struggle to do this. It might sound simple, but there are some important things that need to be in place in order to do this properly and to fully reap the rewards. One thing's for sure, your customer data and your payment data need to be in the same system.
Let's look at what's really needed in order to optimize payments and increase the chance of conversion:
1. Know your customer preferences:

Which channels, payment methods and engagement communications they respond best to.
2. Understand channel and payment method performance:
Visibility of how different channels, methods and payment providers work for different campaign/program types and the cost/value of these.
3. Access to a tool to generate payment requests

Be able to easily generate payment requests and link this to customer profiles in your CRM
4. Access to a platform to send payment requests

An integrated system that connects your payment requests to your marketing channels.
5. Analytics to track the status of your payment requests
Real-time analytics to help your team understand what's working and where improvements can be made. 
This might seem like a hefty list, but if you've got Salesforce you're off to a great start. And with FinDock added on, you're most of the way there – the rest is internal organization and strategy.
Here we're going to look at some of the above in a little more detail and offer some tips on how to approach this with Salesforce and FinDock.
Firstly…
Understand your customer's channel preferences…
The preferred channels for sending payment requests differ from company to company and also perhaps within customer segments. There might also be regional and demographic preferences.
For customers who prefer digital channels, you might send an email, SMS or message through a messenger app like WhatsApp. Traditional channels could be a paper or digital invoice or a payment slip.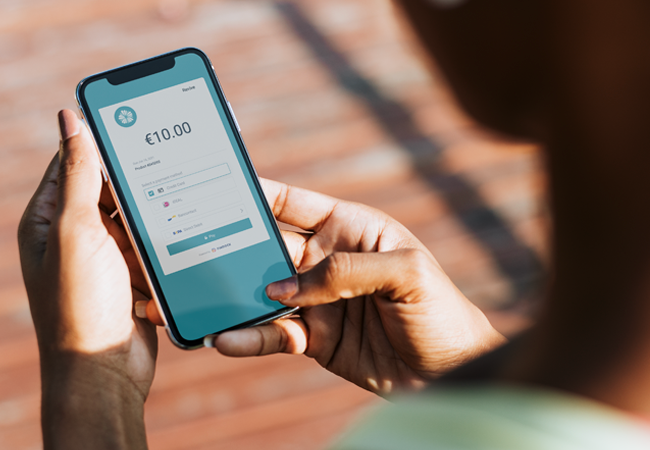 With Salesforce, you have all the data on your customer available to make the right choice of channel. Salesforce also offers a broad range of engagement tools like Pardot and Marketing Cloud to automate the process.
…and make it easy for them to pay!
Now that you have decided on the right channels per customer group to send your payment request through, it's time to create the actual payment request. 
 When combined with FinDock, you are able to easily design and deliver detailed payment journeys right from the heart of Salesforce.
Let's look at some of the options FinDock offers in support of creating engaging and efficient payment journeys using payment requests.
Payment references

With FinDock, your team can create any type of payment request, like payment references which can be included on payment slips which are often sent via Direct Mail. QR codes for local payment methods like the popular Dutch Tikkies can also be created.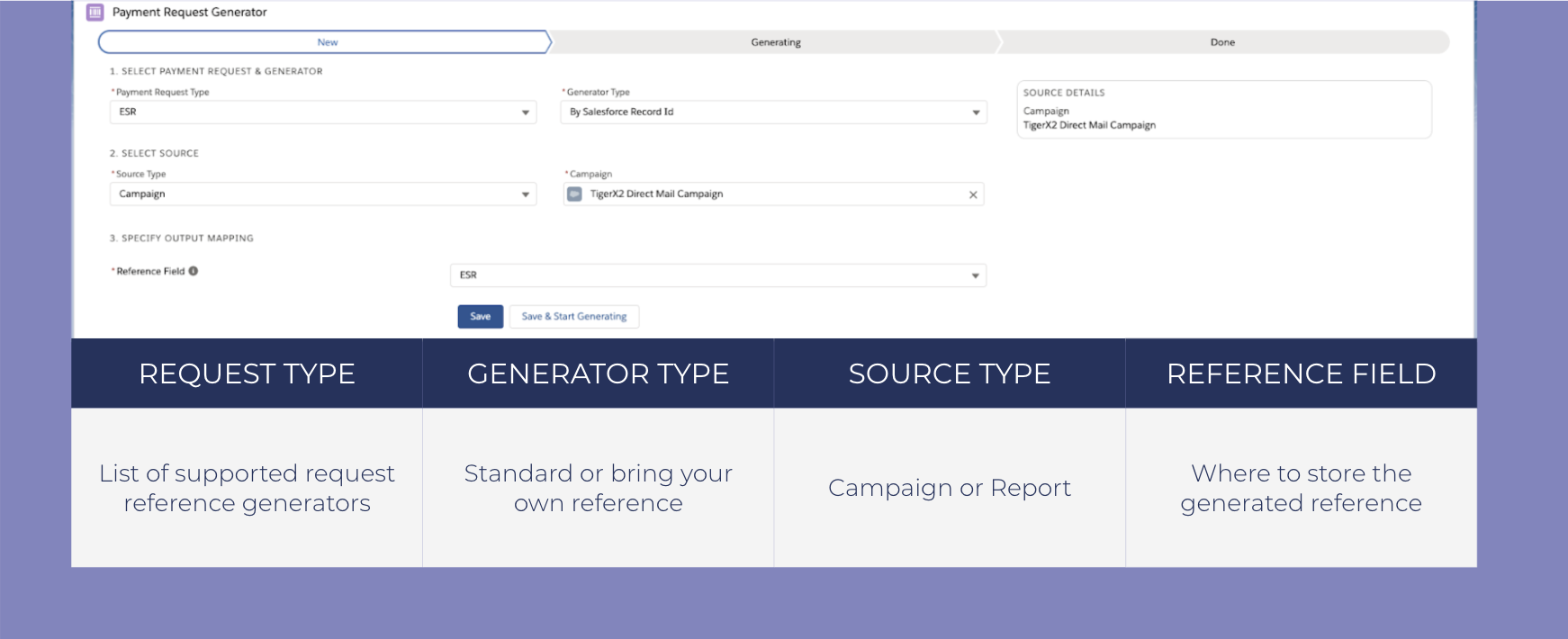 Payment Links
Another way to send a payment request to a customer in Salesforce with FinDock is via a link. FinDock PayLinks can automatically create a payment link on any open expected payment in Salesforce. These payment links can be sent to the customer as a link via email, SMS, social media and more, or as a QR code via multiple channels, including print.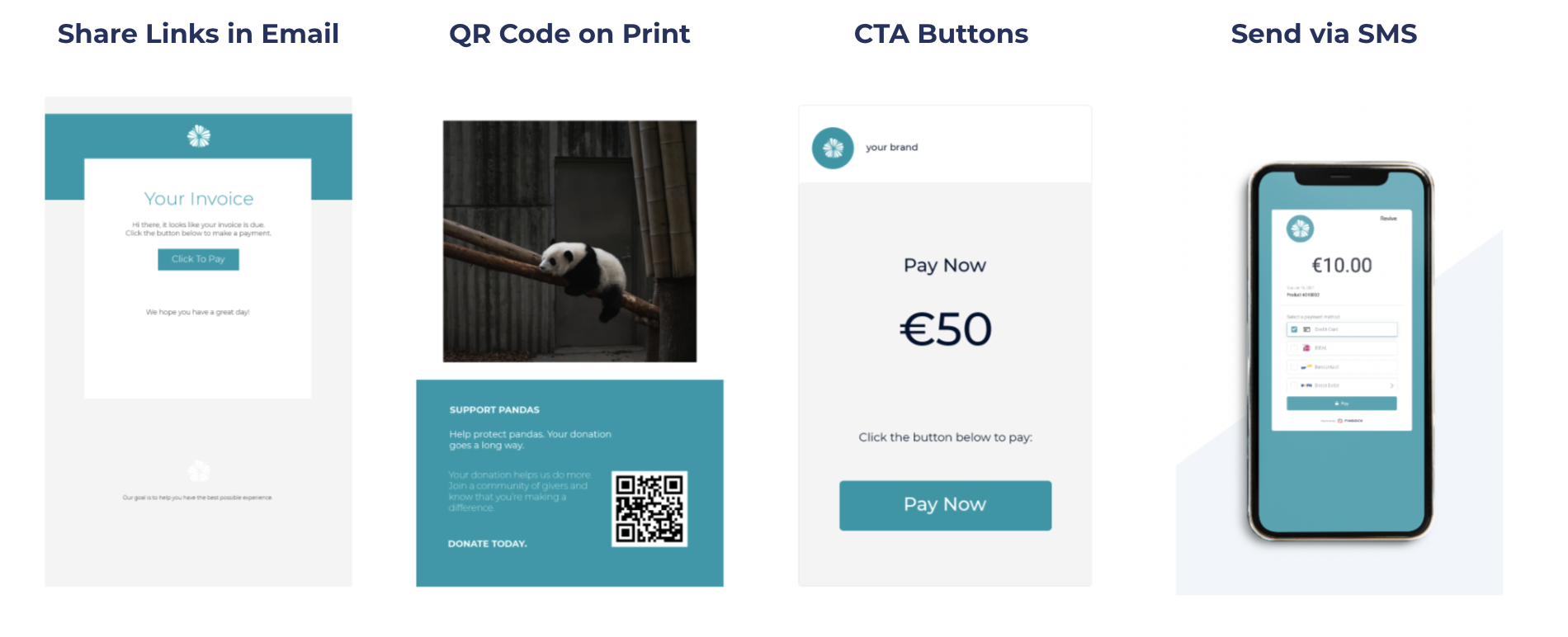 Payment links are a great option for invoice or membership payments or for targeted campaigns which you might run through Marketing Cloud or other Salesforce customer engagement tools.
Each link leads to a personalized payment page that includes important information about the payment like the open amount, the due date, and a description of the payment taken from your Salesforce data. 
To further increase the rate of conversion, the payment page can be customized to your brand by adding your logo, changing the brand color of the payment form, and adding a background color or image.
Track the status of payments and optimize operations
Understanding the details of a payment, like – who has paid, through which channel, and which method etc. is critical for your payment operations. It makes life easier for your entire team. Marketing now knows which channels are converting, finance understands when a payment is complete and which are outstanding, and operations can make more informed decisions on which payment provider and methods to use to optimize for payment conversion.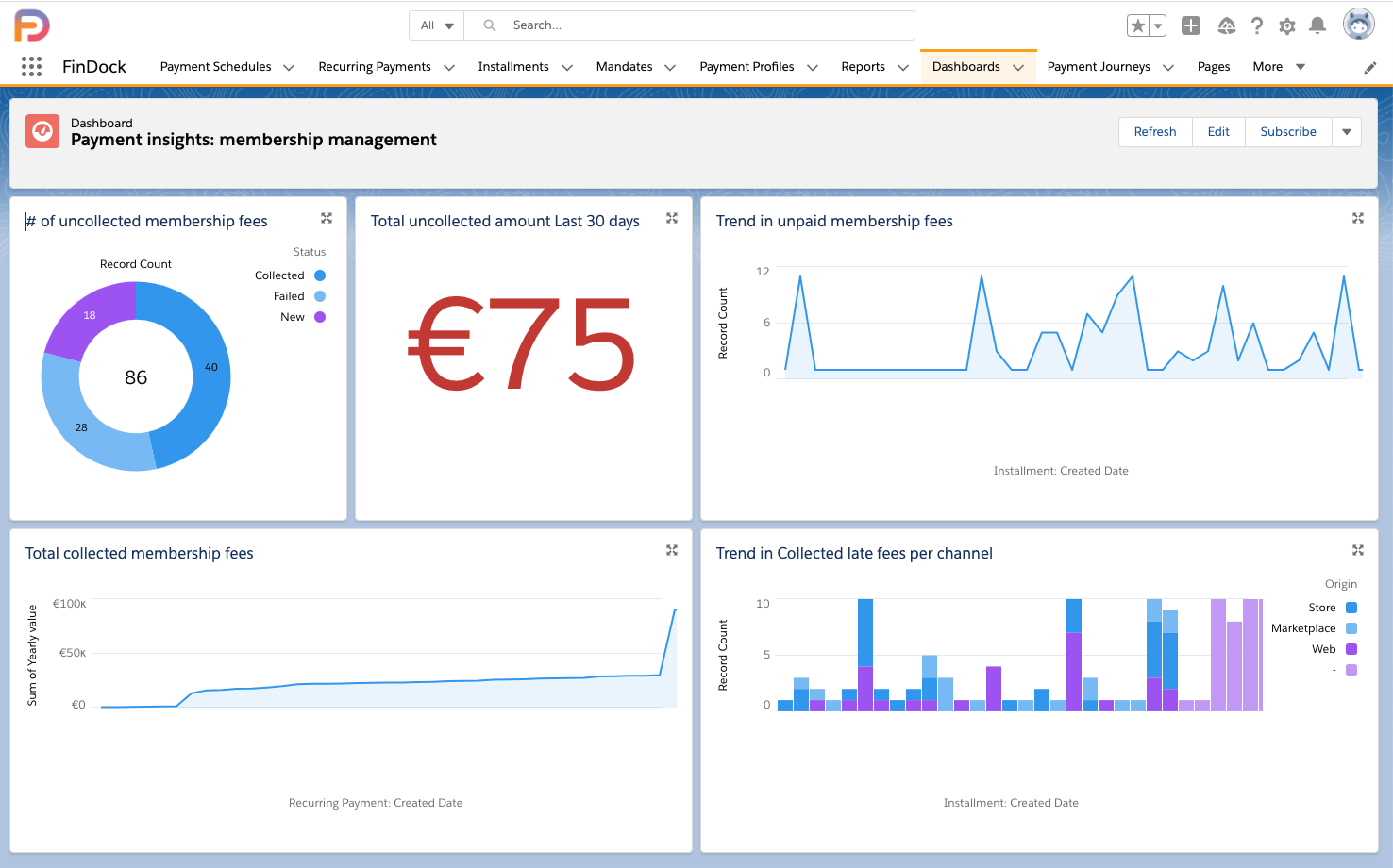 With FinDock you can track and analyze all your payment data in Salesforce with real-time updates of payment status. Since all payment data is turned into Salesforce CRM data, you can apply Salesforce analytics tools like Reports, Dashboards, Einstein or even Tableau to get insights and optimize your payment operations through Salesforce automation tools like Flow.
With FinDock it really is possible to create personalized omni-channel payment experiences from Salesforce.
Read more about FinDock PayLinks, or reach out to our Sales Team to discuss pricing. 

Learn more about PayLinks
Interested in learning more about PayLinks? Let's go…