As we move into the new year, it's the perfect time for organisations to start thinking about fresh and innovative ways to raise funds for their causes. After analysing the success of various fundraising initiatives in the previous year, we have identified some of the most effective strategies that you can implement in 2023 to drive more income for your organisation. Keep reading to discover what they are and how you can put them into action.
Stay unique and relevant to your donors' lives and values
Creating a unique donor experience enables organisations to stay relevant in their donors' lives. Donors are more likely to remain loyal if they have a positive experience, and research shows that 57% of donors will stop supporting an organisation if another one provides a better experience. So how can you provide a unique donor experience while also staying relevant to your donors' lives and values? 
It's clear that personalising donation experiences can make a big difference – up to 14%! Showing donors that you know them and asking for the right amount based on their history can be a great way to provide them with an individualised experience. This way, donors can appreciate how well your organisation knows them and better understand the impact of their contributions.
Personalising your communications and making them as relevant as possible can help improve donor retention rates. People are more likely to engage with messages that are tailored to them and that show how your organisation understands their needs. To accomplish this, nonprofit organisations might want to consider more personalised and tailored messaging in their communications.
Veganuary is a great example of how personalization, combined with accurate CRM data, can pay off. By taking this approach, they have been able to create customised donor experiences and expand their reach to new audiences.
"Because FinDock is 100% native, payment data becomes Salesforce CRM data. This allows us to see who donated, where they're from, and how much they donated. This means we can launch more tailored journeys from Pardot and never miss an opportunity."
With Salesforce and FinDock, you have the ability to make giving easier for your donors. With pre-filled Giving Pages, you can use donor historical data and make sure that each donor is asked for an amount that is appropriate for them.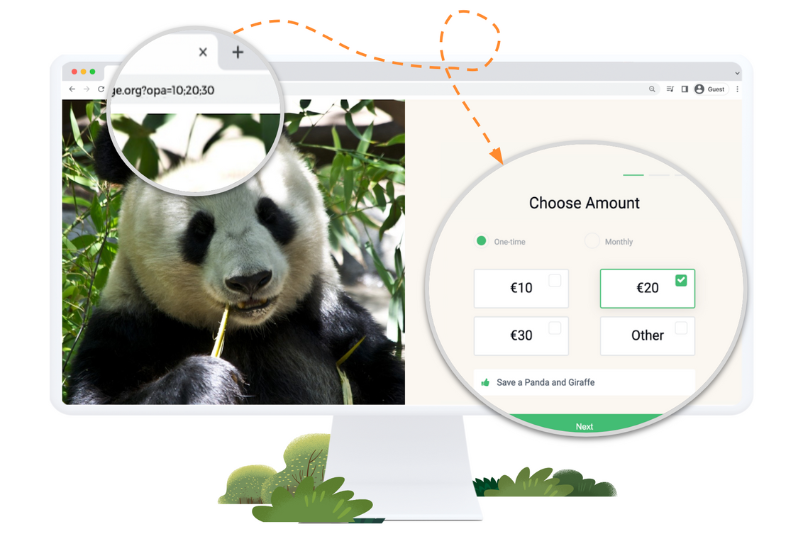 Optimise your fundraising operations to maximise your income
How many times did you look into new fundraising strategies only to find out that it's very hard to actually acquire new donors? As it turns out, finding new donors is a global challenge for nonprofit organisations, and optimising processes and maximising income becomes a top priority. 
By regularly assessing and optimising your processes, you can save many resources for your organisation. Sometimes, organisations miss out on potential income due to failed or missed payments, unclaimed Gift Aid, and more. 
With FinDock, for example, you can see in a Salesforce dashboard if any of your donors have failed Direct Debit payments, or if there are missing Gift Aid declarations for your top donors, so you can re-claim that missing income for your organisation.
For Save the Children Netherlands, part of maximising their income stood in reducing their Direct Debit failure rates. 
"We've reduced our Direct Debit failure rate by 60% since using FinDock."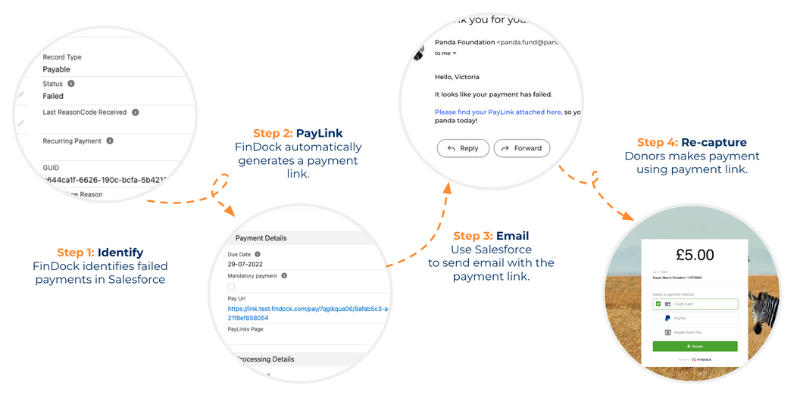 Refine processes and improve efficiencies in your organisation
What if you could raise the same amount using fewer resources? Or raise even more using the same resources? When you automate tedious manual processes, you have more time to focus on areas of your organisation that need improvement. 
With FinDock and Salesforce, you can connect payment data to CRM data in order to keep track of your organisation's data. All the information stays in one system, native to Salesforce, resulting in more connected data and fewer data silos. 
Since donations land in Salesforce in real time, you can send out automated and hyper-personalised 'thank you' notes, use Guided Matching to reconcile from bank statements, and transform bank data into CRM data. 
After Wycliffe Bible Translators started using FinDock, they noticed great improvements in their operations. 
"Before FinDock, it used to take us two weeks to get caught up with processing donations after the Christmas break. But this year, it took us 2 days, even though donation income is growing."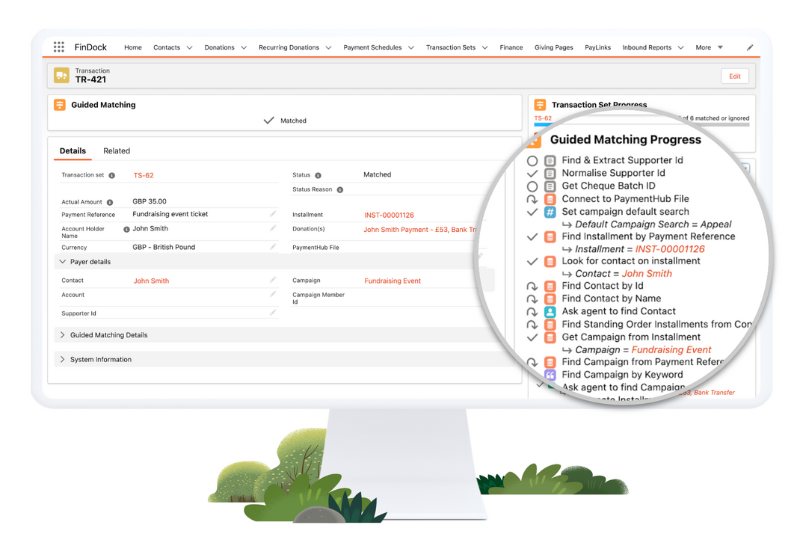 Knowing what works in the world of fundraising can help your organisation thrive even when times are tough. So if you try to stay unique and relevant, optimise your operations and improve efficiencies, your organisation shouldn't have a problem finding more donors, retaining existing ones, and sending out more successful fundraising campaigns.