FinDock MOTO payments is a reliable, easy, and safe way for organizations to process 'card-not-present' payments and donations directly in Salesforce.
Woerden, The Netherlands, December 12, 2022:
FinDock is pleased to announce the introduction of a MOTO payments component that extends its Salesforce native payments management app. This feature is currently available in pilot and is expected to be available in BETA with the March 2023 release.
FinDock MOTO payments offers an easy and safe way for organizations to take credit card payments or donations via mail or telephone. Initially launching with Stripe as Payment Service Provider (PSP), additional PSPs may be added later in 2023.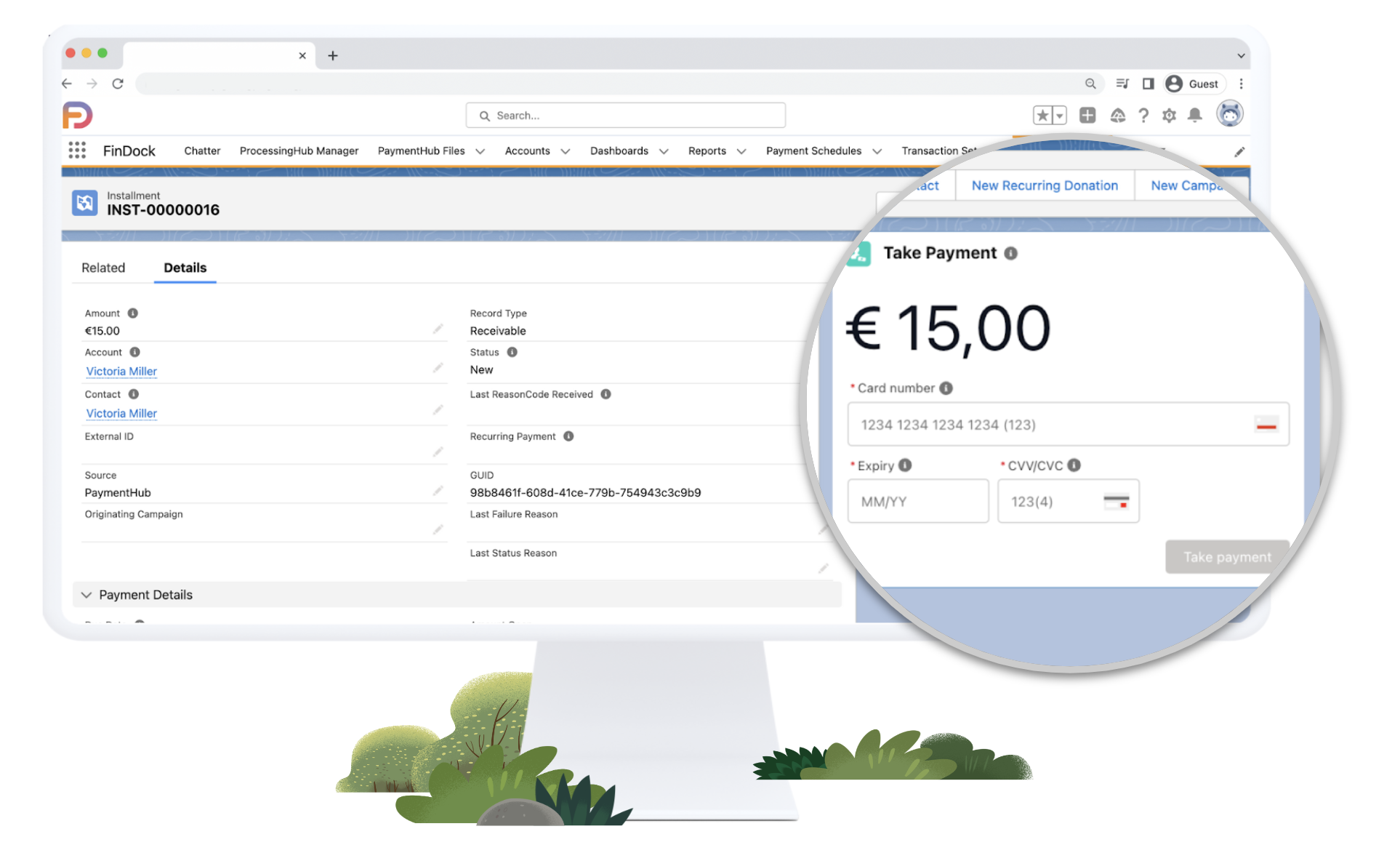 "FinDock MOTO payments adds another payments capability to FinDock's already rich feature set on Salesforce," says Laurens Wapenaar, Product Manager at FinDock. "The FinDock customer community is vibrant, making it easier to identify features that can offer value. MOTO is something that the FinDock team and our community have been looking forward to for some time and we're very pleased to introduce it."
"Having the ability to add the 'Take Payment Component' to screen flows has made processing MOTO payments so much quicker for our users. The component uses our current integration with FinDock's Stripe Connector, all we had to do was drop it into the screen flow. We are very happy with this feature," says Adam Walsh, Salesforce Administrator at Christians Against Poverty.
Many organizations spend significant time recording and processing payments and or donations over the phone and via mail which is often a manual task that takes up valuable time and resources. It is also error-prone and vulnerable to fraud. 
With FinDock MOTO payments, organizations can easily process card payments over the phone or from "cards on file", in a secure Salesforce environment, while allocating funds to the right campaign or channel. 
When the payment information is in Salesforce, users have direct access to it which they can use to enrich reports and dashboards, or to trigger journeys or flows using Salesforce tools. Like all FinDock features, the MOTO component is native and can be included on any Salesforce screen or business flow.
Getting started with FinDock MOTO payments:
If you're not yet a FinDock customer but would like to learn more – please reach out to our dedicated team of advisors. If you are a FinDock customer you can get started right away by simply adding the FinDock MOTO component to the layout. 
Register for the FinDock release webinar
Register for the upcoming FinDock Release webinar in March to see MOTO payments in action.
About FinDock:
FinDock is a Salesforce native app that unlocks payments on the Salesforce platform. As payment methods and channels diversify, organizations need to be agile in order to meet supporter demands now and in the future. FinDock supports them in doing this. With a robust payments architecture and user-centered tools to control end-to-end payments management, FinDock enables any organization to capture, process, and reconcile all payments directly in Salesforce.  FinDock ensures your data is unified and actionable in Salesforce which means you'll not only be able to achieve operational efficiencies but also deliver more meaningful and impactful supporter experiences.
For more information, go to: www.findock.com
Salesforce AppExchange: FinDock